AUSA Day Two: We're Doing It Right
---
A very busy day yesterday. We got started early, setting up for the meetings we had scheduled and making sure we had our props and PowerPoints tidy. Most of these meetings are short: the folks we get to come by are all very busy at this show, so we often have only 15 minutes or so with them. And even then, the best laid schedules are very fluid, so we need to be quick on our feet. Fortunately, we have a great crew here that can handle multiple roles and speak on multiple topics.
Anyway: the day was pretty solid, and we learned a lot. (Which, of course, is why we do these things). The big concerns we heard this year centered around readiness; with conflicts around the world at a notably high pitch—the Balkans, the Baltic States, North Korea, ISIS—the Army must be ready for all these, with the trained manpower and equipment that can perform in any of these (and any other) trouble spots.
We heard from Army general officers, directors of RDT&E commands and program managers, and they told us one thing consistently: the US Army needs its supporting industrial base to innovate and deliver. That means innovation in the way we design not only for efficient use of space, weight and power, but also for the rapid changes in technology, taking advantage of the latest, most powerful processors and running the latest, cyber-secure software. And then: to deliver these products in a way that the Army can fully utilize them, making sure that not only do they fit the stated needs, but are readily adaptable to fluid mission requirements.
Ready for anything
It is essential that what we make fits the role of the Army—be ready for anything, anywhere and all the time. I can tell you that it was gratifying to hear these sentiments over and over again as we went through our plans for "Mission Ready Systems," our latest FPGA offerings and our continued focus on small, light and easy integration. When a General Officer tells you "we need more companies to show the kind of foresight and bold execution you guys are showing" it means something. As we go about our daily efforts, it is often difficult to see the value in working so hard. Well, fellow Abaconians (we like to call ourselves that): take heart—the Army sees what we are doing, and from what I heard today, they like it.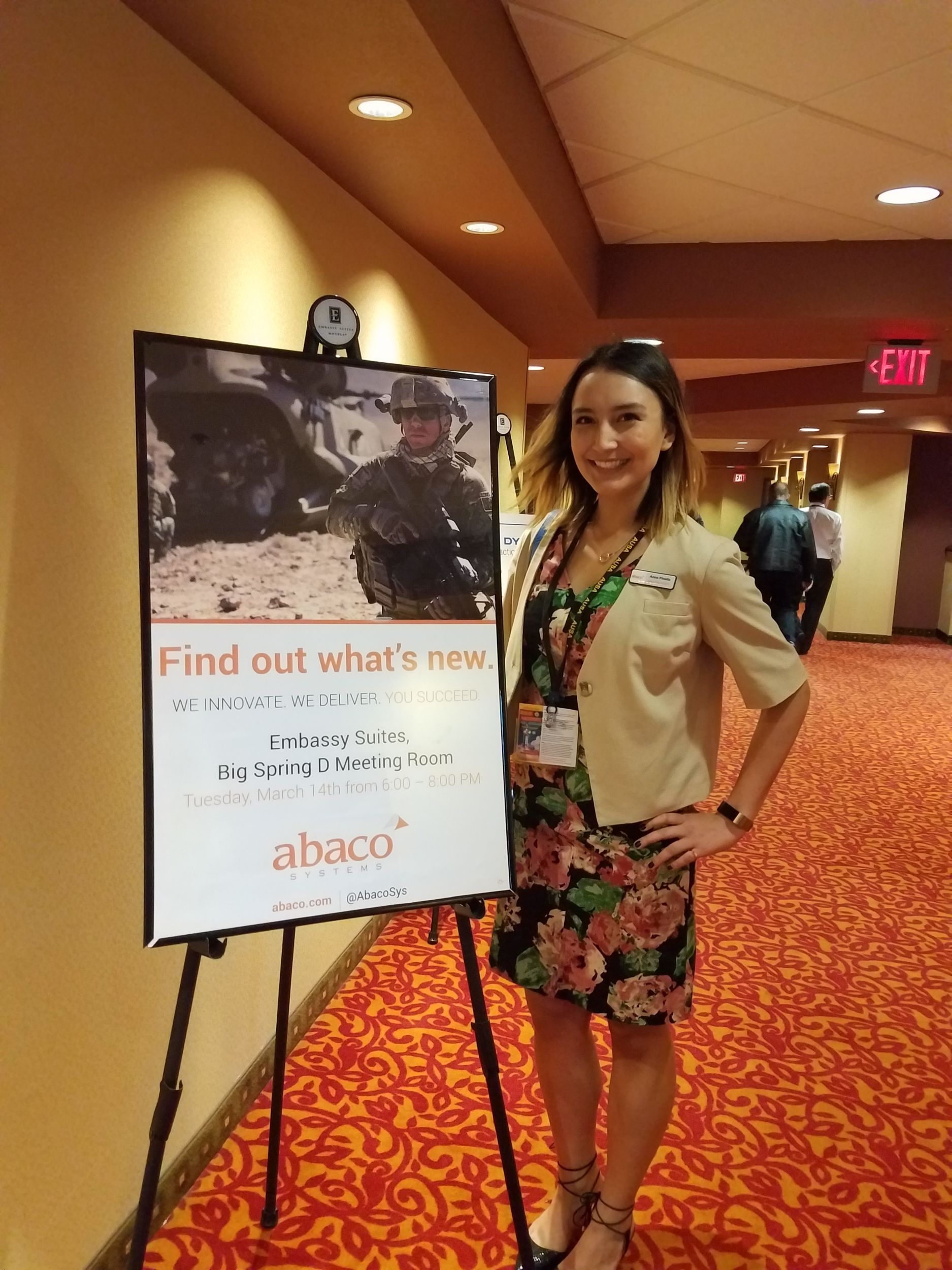 Oh, and by the way: we had a reception for our Army (and other) friends here last night. (See the picture above of Anna welcoming our guests.) It was really fantastic to loosen the tie, crack open a cool one and get some great food (we never find time to eat at these shows) and just chat. It is truly a pleasure to talk with these folks about other things; their families, backgrounds and other interests. Most impressive, though, is to hear and speak to them about their passion for the work they do, and hear just how committed they are to serving.
America has an awesome Army. Be proud, America.
---